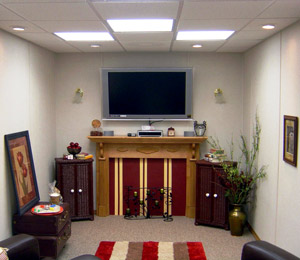 Cellar conversion and basement
conversion specialists in the UK
Basement conversion in 10 steps
You've decided to convert your basement, or perhaps you're in the process of making this major home improvement decision. Relax. You've come to the right place. Basement Systems GB is leading the way in basement damp proofing and basement conversion technology. We belong to a network of expert contractors who have served over 150,000 dry, happy customers in the United Kingdom, Ireland, the U.S. and Canada. Unlike many of our competitors who must rely on off-the-shelf materials, we have access to patented, industry-leading products designed specifically for basement waterproofing and basement finishing. When you hire Basement Systems GB, you know we'll do it right the first time.
Converting a basement is a smart investment. It's a very affordable way to expand your living space, and you'll enjoy the added benefits of improved comfort, greater energy efficiency, freedom from waterproofing worries, and higher home value. Here are the basic steps in a typical Basement Systems basement conversion project.
1. Schedule a free survey. It costs nothing to have a basement expert from Basement Systems GB come to your residence and complete a thorough survey of your basement space. You'll get an honest assessment of your basement's potential for conversion. We'll explain the advantages and limitations of different damp-proofing techniques, and go over a variety of ideas and options for your basement conversion.
2. Design your new space. The way you plan to use your converted basement will determine many design details. A home office will have different lighting and electrical wiring requirements than an exercise room. Perhaps part of the converted basement should be left unfinished so it can be used as storage space. The experts at Basement Systems GB can help you sort through your design options and come up with a final plan that suits your needs and budget.
3. Prepare the basement. Are there materials in your cellar or basement that have been damaged by moisture? Has your basement become a repository for unwanted and rarely used items? If you answered "yes" to either of these questions, it's time to clear out the space to make way for the work to come.
4. Complete damp-proofing work. Most basements have some sort of moisture problem, and this must be addressed before new finish materials are installed. Here's where Basement Systems GB truly shines. We have the most effective, most reliable basement damp-proofing techniques in the industry. Our perimeter drain and sump pump system provides total basement waterproofing.
5. Replace old windows. Old windows will look out of place in your new basement. If your existing windows are leaky and unsightly, now is the time to replace them.
6. Improve basement access. This step may not be necessary if the stairway to your basement is in good condition and of adequate size. But in some older houses, the basement stairs are narrow and crudely made. If this is the case, your converted basement probably deserves a stairway that's safer, slightly larger and more solidly built.
7. Make plumbing & electrical alterations. The rough-in work for new electrical outlets, basement lights, and (if planned) new plumbing connections is typically completed at this stage of the project.
8. Install finished walls, flooring & ceiling panels. The finishing materials available exclusively from Basement Systems GB are of exceptional quality. You'll appreciate the integral foam insulation in our wall panels, along with the waterproof wallboard with its attractive, easy-clean surface. Our flooring and ceiling panel products are also designed to be attractive, extremely durable and maintenance-free.
9. Complete plumbing & electrical work. Installing these fittings and fixtures is usually the final step in a basement or cellar conversion project.
10. Celebrate! Prepare the food and beverages, then call your friends. It's time to start enjoying your new basement.
Related Pages:
Looking for a price? Get a no cost, no obligation free estimate.